Homes for the Brave Presents
STEP UP FOR THE BRAVE
Stair Climb Challenge | Walking Challenge | Virtual Step Challenge
Step up to help Veterans experiencing homelessness!
Stair Climb Challenge * Walking Challenge * Virtual Step Challenge
Saturday,  August 26th

Registration 8:00 am | Stair Climb/Walk 9:00 am | Total Mortgage Arena | $40 pp (Includes event shirt)
Hosted by: Alyssa Rae Taglia (News 8) & AJ (99.1 PLR)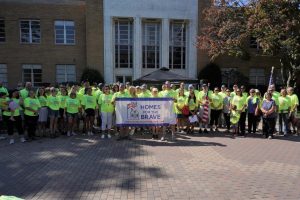 Stair Climb Challenge
Are you ready to push your limits and test your endurance like never before? Step up to the ultimate challenge and join us at Total Mortgage Arena for an exhilarating stair climb course that will leave you breathless and craving for more!  This exciting indoor course is designed to push your physical boundaries and ignite your competitive spirit. Brace yourself as you ascend and descend a whopping 500 stairs during each exhilarating round. Are you up for the challenge?
Walking Challenge
Are you ready to take your fitness journey to the next level? Join our exciting walking challenge and embark on an incredible adventure filled with steps, determination, and endless fun! It's time to lace up your sneakers and hit the arena. See how many times you can complete a specially designed indoor course. Each round is a fantastic 1,000 steps, pushing you closer to your fitness goals with every lap. Get a jumpstart on the virtual walk using this fun course!


VIRTUAL WALKING CHALLENGE
Helping Veterans Experiencing Homelessness One Step at a Time!
Saturday, August 26th – Wednesday, August 30th
 You're invited to participate in our Virtual Walking Challenge, designed to make a difference in the lives of Veterans experiencing homelessness. Join us from anywhere in the world and become part of this impactful event!
Register as an individual or create a team with friends, family, or colleagues.
Track your daily steps using a pedometer, fitness tracker, or mobile app.
Log your total steps daily on our website throughout the challenge.
Get ready for some friendly competition! The individuals and teams with the highest step counts will be awarded fantastic prizes. Lace up your walking shoes and get moving for a chance to win! You can participate in the Virtual Walking Challenge regardless of your age or fitness level. Whether you walk, jog, or stroll, every step you take helps make a difference. Let's come together and show our support for Veterans in need!


Thank You To Our Sponsors


Platinum Sponsors:
| | | |
| --- | --- | --- |
| | | |
| | | |
Gold Sponsors:
Red, White, & Blue Sponsor:
| | | |
| --- | --- | --- |
| | | |
| | | |
Silver Sponsors:
Winner's Circle Sponsors:
| | | |
| --- | --- | --- |
| | | |
| | | Bernadette Baldino |
| | | |
| | | |
| | | RDAC |
| | | |
Salute Our Veterans Sponsors:
Companies and individuals can sponsor the Event or Salute a Veteran in honor or memory of a personal hero or loved one. Levels range from $100 up to $5,000.
Everything included with the Gold Level Sponsor, plus:
Table at Kick-Off Event
Identified as presenting sponsor on all live video content
Logo included on event bib/finisher certificate
15 complimentary registrations for the event
Everything included with the Red, White, & Blue Level Sponsor, plus:
Company inclusion in all event-related press releases
Company listing on event registration pages
10 complimentary registrations for the event
RED, WHITE, & BLUE SPONSOR: $2,500
Everything included with the Silver Sponsor, plus:
Live Shout-OUt at Kick-Off Event
8 complimentary registrations for the even
Everything included with the Salute Our Veterans Sponsor, plus:
Logo printed on official event shirt (

deadline 7/10

)
Inclusion in sponsor shout-out social media posts
6 complimentary registrations for the event
Everything included with the Salute Our Veterans Sponsor, plus:
Identified as sponsor of prize for raffle or event category winner
4 complimentary registrations for the event
SALUTE OUR VETERANS SPONSOR: $100
Company logo and link to your website in email blasts & event page
Dedicated social media post in honor or memory of an individual or group
1 complimentary registration for the event