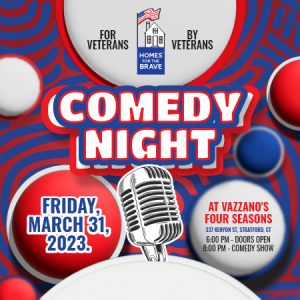 Homes for the Brave presents a lively and memorable night out at the 7th Annual "For Veterans, by Veterans" Comedy Night, hosted at Vazzano's Four Seasons on Friday, March 31st. The evening features a dinner, door prize, 50/50 raffle, and a hilarious lineup of professional comics, all of whom are U.S. Military Veterans. Doors open at 6pm and the show starts at 8pm. Proceeds raised from the event will fund programs and services that assist Connecticut's Veterans struggling with homelessness to gain the foundation they need to get back on their feet and achieve their personal goals. Get your tickets today – just click the link above!
We are excited to have these hilarious comedians performing at our event, all of whom are US military veterans: 
Headliner: KP Burke (U.S. Navy Veteran)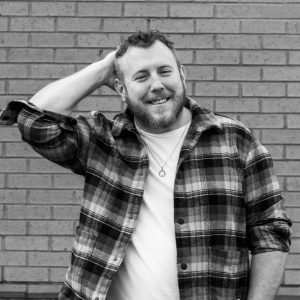 While stationed in Jacksonville, Florida with the US Navy, Burke quickly established himself as a talented joke writer when he began performing at local shows.
Upon completion of his active duty service and the abrupt end of his homeownership, Burke returned to his native New Jersey, becoming a fixture on the New York City and New Jersey comedy scene.
On stage, Burke blends a blue-collar likeability with smart but hard-nosed takes on deeply personal topics such as his military service, his struggles with alcohol, growing up adopted, and his hatred of social media. 
In 2022, Burke released his first special "Escape from Jacksonville" which was filmed at Kevin Smith's "Smodcastle". Several clips from the album went viral on Instagram and YouTube….meaning he has to write new stuff now.
Featured Act: Linette Paladino (U.S. Army Active Duty)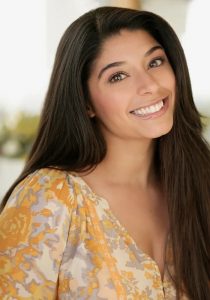 Linette has been a performer all her life. She played the french horn, sang in the choir, and acted all the way from grammar school through college. 
After graduating from Fordham University it was time to fulfill her military obligation. Linette is a Major in the US Army and has deployed overseas three times. 
Linette's comedy draws on her life as a mom, wife, and Veteran. She has performed at clubs and festivals all over the United States, and internationally. From Iceland to Hong Kong and for the troops in Iraq, Linette has seen it all. She has opened for some of America's best comics including Dave Attell, and Carole Montgomery. She was one of five national finalists in the HBO Latino Stand-up Competition, wepaaaa! and, most recently, she earned the top block as Jersey's Funniest Female.
Host: Sevrin Remmo (U.S. Air Force Active Duty)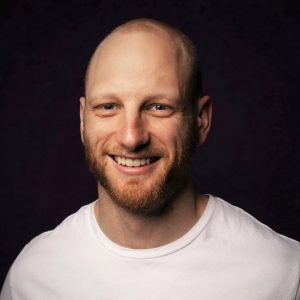 Sevrin is a seasoned comic who was born and raised in Colorado before joining the military and moving to Germany and eventually the East Coast. He blends dry wit, characters, and fresh perspective while inviting audiences to look on the not-so-bright side. As a comic he has performed at Nick's comedy stop, Denver Comedy works, and can now be seen at clubs all across New York City. You can follow him at @sevrinremmo on Instagram where he produces sketches and other short comedy videos.


A big THANK YOU to our sponsors for this event:
Platinum
Gold
Silver
Bronze